JoJo's Bizarre Adventure: Part 5--Golden Wind, Vol. 8 (Hardcover)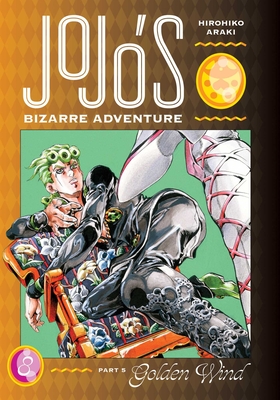 $19.99

Not in Store - Available for pick up in 1-3 days - Usually Ships in 1-5 Days
Description
---
A multigenerational tale of the heroic Joestar family and their never-ending battle against evil!

The legendary Shonen Jump series is now available in deluxe hardcover editions featuring color pages! JoJo's Bizarre Adventure is a groundbreaking manga famous for its outlandish characters, wild humor and frenetic battles.

Secco and Bruno Bucciarati are going head-to-head, quickly shifting between traveling underground and through zippers with their Stand powers in an attempt to gain the upper hand. Bucciarati has never faced a threat like this, but will the mysterious changes to his body and his enemy's overwhelming power crush him, or can he eke out a win just in time?
About the Author
---
Hirohiko Araki made his manga debut in 1981 with the Wild West story Busô Poker. He experimented with several genres, including mystery (Mashonen B.T.) and action-horror (Baoh), before beginning JoJo's Bizarre Adventure in 1986. Propelled by imaginative storylines, weird imagery and individualistic artwork, JoJo's Bizarre Adventure is one of the longest-running and most popular shonen manga ever. Araki's current works include a new series set in the JoJo universe, JoJolion.